A while ago I found a recipe for a
Fast 'N Fresh Frittata
in my Pampered Chef It's Good For You Cookbook. I've wanted to make it for a while but the hubs does not like 2 of the main ingredients (asparagus and tomatoes). Last night when I got home from the gym I was really craving an omelet when I remembered the frittata so I based this recipe off the original one. The original recipe calls for a bigger skillet, but I just used an 8in last night.
Easy Frittata
(I didn't get a picture of it last night. Here is a frittata I found online that looked pretty similar to ours except for the salsa on top)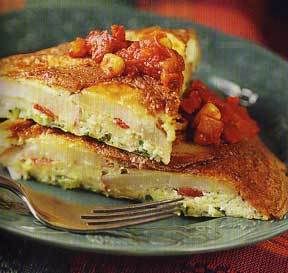 These are all estimates, I just threw stuff in
1 tbsp Olive Oil
¼ cup chopped red peppers
¼ cup chopped green peppers
¼ cup canned corn
1/8 cup chopped green chilies
¼ cup chopped onion
1/4 cup chopped Leftover Turkey Day Ham
1 small potato - diced
Shredded Cheese (to taste)
2 eggs and 2 egg whites whisked together
Salt and Pepper to taste.
Garlic Salt to taste (or you could use fresh pressed garlic)
Heat olive oil in skillet on medium-high heat until hot. Add potatoes, veggies, ham, and garlic salt. Cook and stir four minutes, reduce heat to low. Add shredded cheese and salt and pepper to potato mixture. Pour eggs over top potato mixture. Cover; cook on low heat for 14-15 minutes, or until center is set. Remove from heat, sprinkle cheese on top, let stand until melted. Cut into wedges.
This was excellent, we both loved it. It tasted great with a nice cold glass of chocolate milk. Next time I'll definitely use a larger skillet so we have leftovers.