Well, maybe not quite. But, Cookie Carnival is Back!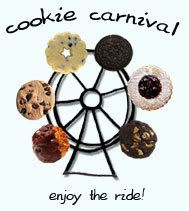 CC was on a break in January and I just didn't have time to participate in December. I'm so glad it's back. This month Kate chose Fudge Cookies with Toffee and Dried Cherries from Regan Daley. I was happy to see we were baking chocolate cookies this month, but cringed when I saw the dried cherries. I don't like cherries. I planned on just leaving them out when I decided to take the cookies a whole different route.... Chocolate and Orange.
Have you ever had a bite of an orange and then popped a piece of dark or bittersweet chocolate in your mouth? Heaven. It's a simple combination that tastes (almost) luxurious. It's a wonderful way to indulge. I've been on an orange kick the past couple weeks. I like to pair it with dark Hershey kisses from time to time. With all the chocolate in this recipe I knew adding orange would be a sure winner. I've also developed an obsession with lime recently and at the very last minute decided to add lime zest and lime juice to the recipe as well.
The result was a fresh, citrus-y flavored cookie. The orange and lime didn't overpower the chocolate, but they really complimented it. Matt liked these, I absolutely loved them. I was going to give them to Matt to take the work, but decided my freezer would make a much better home. Next time we have Mexican and some Corona I think these cookies will make a great addition :)
(orange fudge cookies? chocolate chunk orange cookies?)
INGREDIENTS
2 1/4 cups all-purpose flour
1/2 cup unsweetened dutch-process cocoa powder
1 teaspoon baking soda
1/4 teaspoon salt
1 cup unsalted butter, room temperature
1 cup tightly packed dark brown sugar
3/4 + 1tbsp granulated sugar, separated
2 large eggs
1 cup dark chocolate chips
Zest and Juice (mine was about 1/4 cup) of 1 orange
Zest and Juice of 1 lime

INSTRUCTIONS

Preheat the oven to 350 degrees. line two heavy baking sheets, not non-stick, with parchment paper and set aside. sift the flour, cocoa, baking soda and salt together into a bowl and set aside. In a small bowl mix orange and lime zest with 1tbsp of sugar.
In a large mixing bowl or the bowl of an electric or stand mixer fitted with the paddle attachment, cream together the butter and both sugars until light in colour and fluffy, about 2 minutes. add the eggs, one at a time, beating well after each addition and scraping down the sides of the bowl. beat in the orange and lime juice. stir in the flour-mixture in 3 additions, blending just until the dry ingredients are moistened. Stir in the chunky ingredients and mix until they seem evenly distributed.
Drop the batter by heaping tablespoons onto the prepared baking sheets and place them in the center of the oven. bake the cookies for 15-18 minutes, or until barely set in the center and just firm around the edges. I have no clue how long mine baked, I just watched them until they looked almost done, but still sort of gooey. cool the cookies on the tray for 5-10 minutes, then transfer to wire rack to cool completely before storing.
So Kate, thank you so much for choosing this recipe. I know I wondered pretty far off the reservation with this one, but I definitely used the guidance of the original recipe. To check out the original recipe, please go visit Kate at
The Clean Plate Club!