Yesterday I was lurking on the nest when someone posted a link to her new blog. The first post had some cookie recipes. One that immediately caught my eye was for S'more cookies. Now, nothing beats the chocolaty, sticky goodness of a S'more but, I was pleasantly surprised with the
S'more Cupcakes
and knew I had to give these cookies a shot. These weren't difficult to make, just different due to the marshmallows.
S'more Cookies
From
Telly's Tasty Tidbits
My changes in italics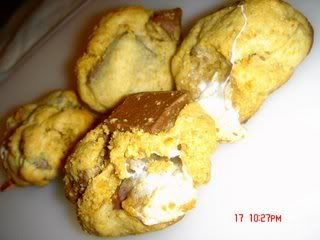 1 Stick butter
1 Stick margarine -
I didn't have margarine so I used 2 sticks of softened butter
1 Cup packed brown sugar
½ Cup white sugar
½ Tsp baking soda
2 Eggs
1 Tsp vanilla extract
2 ½ Cups all-purpose flour
1 Cup chocolate chunks
1 Cup crumbled graham crackers (leave some chunks at least ½ inch in size) –
I used graham cracker crumbs because I had them on hand.
1 Cup mini marshmallows
Directions:
1) Preheat oven to 375 degrees – use ungreased cookie sheet or parchment paper.
2) In a large mixing bowl beat butter and margarine with mixer on medium-high speed for 30 seconds. Add brown sugar, white sugar and baking soda. Beat until mixture is combined, scrapping sides of bowl occasionally.
3) Beat in eggs and vanilla until combined. Beat in as much of the flour as you can with the mixer and stir in the rest. Fold in chocolate chunks, marshmallows and graham crackers.
4) Drop dough by rounded teaspoons 2-inches apart on cookie sheets. Bake at 375 for 8-10 minutes or until edges are slightly brown. Transfer to wire rack and let cool.