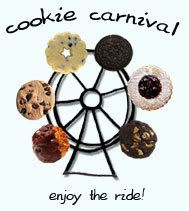 It's Cookie Carnival Time again! This month we baked Mini Pumpkin Whoopie Pies. I was very excited - chocolate and pumpkin, one of my favorite combinations. I had a much easier time this month than I did
last month
. The actual cookie part is soft and cake-like. It has a mild chocolate flavor and is pretty unremarkable on it's own. It almost reminds me of devils food cake. Pair it with the tasty pumpkin filling and you have yourself a nice treat.
I messed around with the recipe a bit adding 3/4 cup of chocolate chips to the dough and making some changes to the filling. Thanks to the success I had last time I baked a
chocolate/pumpkin
treat, I decided to add melted Pumpkin Spice Kisses (25 or so). I also used some pumpkin pie spice and decided that the filling wasn't pumpkiney enough. Rather than the 1/4 cup of pumpkin the recipe calls for I ended up using an entire can. I think this changed the consistency and appearance of the filling, but it is so good.
Matt and I both enjoyed these cookies. If I were to make them again I would add the melted kisses to the cookie dough to spice it up a bit and increase the chocolate chips to 1 cup.
Thanks
Kate
for choosing this recipe!
Mini Pumpkin Whoopie Pies
Source: Martha Stewart
FOR THE COOKIES:
My adaptions in italics
1 3/4 cups all-purpose flour
3/4 cup unsweetened cocoa powder (not Dutch-process)
1 1/2 teaspoons baking soda
1/2 teaspoon coarse salt
1 tablespoon unsalted butter, softened
1/4 cup vegetable shortening
1/2 cup granulated sugar
1/2 cup packed dark-brown sugar
1 large egg
1 cup whole milk
1 teaspoon pure vanilla extract
3/4 cup milk chocolate chips
FOR THE FILLING:
4 ounces cream cheese, at room temperature
1/2 cup (1 stick) unsalted butter, at room temperature
1/2 cup confectioners' sugar
1/4 cup canned solid pack pumpkin
I used an entire can
Pinch of cinnamon
Pinch of nutmeg
Pumpkin Pie Spice
25 Hershey's Pumpkin Spice Kisses - melted
DIRECTIONS:
Prepare cookies: Preheat oven to 375 degrees. Sift together flour, cocoa powder, baking soda, and salt into a medium bowl; set aside.
Place butter, shortening, and sugars into the bowl of an electric mixer fitted with the paddle attachment. Mix on high speed until smooth, about 3 minutes. (mine never actually got smooth, just a moist crumbly texture, too much sugar to get smooth) Add egg; mix until pale and fluffy, about 2 minutes. Mix in half the flour mixture, then the milk and vanilla. Mix in remaining flour mixture.
Drop about 2 teaspoons dough onto baking sheets lined with parchment paper, spacing 2 inches apart. Bake until cookies spring back when lightly touched, 12 to 14 minutes. Transfer baking sheets to wire racks and let cool 10 minutes. Remove cookies from baking sheets and transfer to wire racks using a spatula; let cool completely.
Prepare filling: In the bowl of a mixer fitted with the paddle attachment, whip together cream cheese, butter and confectioners' sugar on medium speed until smooth, about 3 minutes. Add pumpkin, cinnamon, and nutmeg; whip until smooth, scraping down the bowl as necessary.
Pipe or spoon about 2 teaspoons filling on the flat sides of half the cookies. Sandwich with remaining cookies, keeping the flat sides down.
Makes about 20 cookies