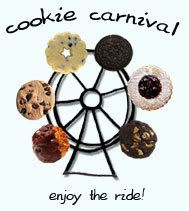 Grapefruit Sandwich Cookies: 1
Stacey: 0
Where do I even begin????? As Julie Andrews sang in The Sound of Music…. Let's start from the beginning, a very good place to start...
This month for Cookie Carnival, Kate of
The Clean Plate Club
took suggestions from those of us participating. The recipe Kate chose was a Martha recipe, Pink Grapefruit Sandwich Cookies. It was submitted by Mari of
Mevrouw Cupcake
. I'll be honest my first two thoughts when I saw the recipe were:

1) Sandwich cookies.... pain in the ass
2) Grapefruit… ewwwww.
I tossed around the idea of subbing oranges in for the grapefruit, but I wasn't sure how many oranges I would need to substitute. So I just stayed with the grapefruit. On Sunday I went to the store realized I had to be honest with myself. I have never even tried grapefruit before. How did I know I really didn't like it? Then I had another realization, I didn't really know what a whole grapefruit looks like. Luckily I found them and bonus… they were on sale!
So fast forward (or I guess at this point rewind =) ) to Tuesday. I had a rough day, just one of those days I didn't really feel good and was so exhausted all I wanted to do was go home and sleep. But, if I wanted to get my recipe baked and submit it on time I had to do it Tuesday night. So I sucked it up and made the cookies.
As soon as I started the cookies I was annoyed. I realized I was out of cake flour, so I had to find a substitute. Then I moved onto the zesting/grating portion of the recipe and grew even more annoyed. I just find it to be such a pain in the butt. After that, I squeezed the damned grapefruit by hand in order to get the juice. At that point I was wondering why I decided to make the recipe. I soldiered on though and made the dough. I tried a bit of it and, OH MY GOSH! I loved it. Tasted just like orange sherbet!
So from there I put my dough in the fridge, searched through a drawer in my kitchen, and found super cute heart cookie cutters to use. Fast forward 45 minutes and I took the dough out and rather than flouring the surface of my counter, I was going to roll it between wax paper. There is where my REAL problems began. I rolled it out and peeled back my top sheet of wax paper. The dough was sticky and gooey, not like other roll out cookies I have made in the past. There was no way I could use a cookie cutter on those. So I scraped up my sticky/gooey mess and threw it in a small bowl and stuck it in the freezer thinking I would just forget rolling and make drop cookies.
I kept the dough in the freezer for about 20 minutes before I threw my first dozen in the oven. I peeked in on them and they just didn't look right. So with that I was certain the cookies had defeated me. I went to lay on the couch and was going to drown my sorrows in 90210 when it hit me that maybe I didn't add enough flour. Sure enough, I re-read the recipe and forgot a ½ cup of AP flour. With that, I added about 1/3 cup of flour to the remaining dough and wow, what a difference that made.
(cookies on the left with additional flour, on the right without)
So I baked all of these as drop cookies, let them cool and luckily made my icing without a hitch. I did decide to pipe the icing rather than use a spatula.
Overall though, I actually liked these cookies. They had a nice citrus taste. I think they would be a good baby shower or wedding shower cookie. Matt didn't have very high hopes for these either and said he was "impressed". I brought some into my coworkers and they really liked them as well.
I'm upset they didn't turn out like they should have. I think I will try to make these again, with the cake flour, with the right amount of AP flour and my heart cookie cutters. Thanks Kate for choosing this recipe. You got me out of my comfort zone and one step closer to grapefruit. :)
Pink Grapefruit Sandwich Cookies
You can bake the cookies and make the filling the day ahead.

Grated zest of 1 Ruby Red grapefruit, plus 1/4 cup freshly squeezed juice
1 cup sugar
1 1/2 cups all-purpose flour, plus more for work surface
3/4 cup cake flour (not self-rising)
1 teaspoon baking powder
1/2 teaspoon salt
1/2 cup (1 stick) unsalted butter, softened
2 large egg yolks
Pink Grapefruit Filling
Preheat oven to 350 degrees. Line a baking sheet with parchment paper; set aside. In a small bowl, combine zest with 1 tablespoon sugar; set aside. In a medium bowl, whisk together both flours, baking powder, and salt; set aside.

In the bowl of an electric mixer fitted with the paddle attachment, beat butter and remaining sugar on medium-high speed until light and fluffy, about 2 minutes, scraping down sides of bowl as needed. Add egg yolks, and beat until combined, scraping down sides of bowl as needed. Beat in reserved zest-sugar mixture. Add flour mixture in two batches, alternating with the juice, and beat to combine.
Turn out dough onto a piece of plastic wrap, and shape into a 1-inch-thick disk. Wrap in plastic, and refrigerate until firm, about 30 minutes

On a lightly floured work surface, roll out disk to 1/8 inch thick using a lightly floured rolling pin. Using a lightly floured 2-inch round cookie cutter, cut out rounds and place about 1 inch apart on prepared sheet. Bake, rotating sheet halfway through, until edges are golden, 18 to 20 minutes. Transfer sheet to a wire rack to cool 5 minutes. Transfer parchment paper and cookies to rack to cool completely
Using an offset spatula, spread 1 tablespoon filling onto flat sides of half the cookies. Sandwich with remaining cookies, keeping flat sides down. Once filled, cookies can be kept in an airtight container in the refrigerator for up to 3 days.
1/2 cup unsalted butter, softened
2 cups confectioners' sugar
1 tablespoon honey
3 tablespoons freshly squeezed Ruby Red grapefruit juice
In the bowl of an electric mixer fitted with the paddle attachment, beat butter and sugar until light and fluffy, about 4 minutes. Beat in honey. Add juice, 1 tablespoon at a time, until filling holds together and is smooth and creamy, about 2 minutes. Transfer to a small bowl, cover, and set aside until ready to use