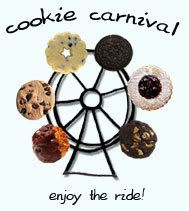 When I think of biscottis, I think of high school when I worked at the St. Louis Bread Co. There was a lady with a very strong English accent that would come in all the time asking for a biscotti. To this day I can't say the word without an English accent. I've never really cared for biscottis, too dry for my liking. When
Kate
announced that the recipe for Cookie Carnival this month was for a biscotti I realized I didn't actually know what a biscotti was. I soon found out biscotti means twice baked. With that knowledge under my belt, I decided to give this recipe a whirl.
I made a few changes, I don't care much for hazelnuts so I substituted almonds and added white chocolate chips and melted white chocolate on top. I also added more vanilla extract and cut back on the almond extract. The results were better than I expected. Not as dry as I thought they would be, but I wish I would have cut the amount of whole almonds in half and added more white chocolate chips. All in all though, a pretty darn good treat. I might just have to take up drinking coffee to have with my treat.
Thanks Kate for choosing a recipe to broaden my baking horizons!
**** So I have to update this. After munching on them all week, I have come to the conclusion that these are absolutely delicious. Even my husband loves them and it's not something he would usually like. I will most definitely be making these again, maybe next time though I will cut the recipe in half.****
Chocolate Almond Biscotti
Adapted from: Bon Appétit from The Bakehouse, Bloomington, IN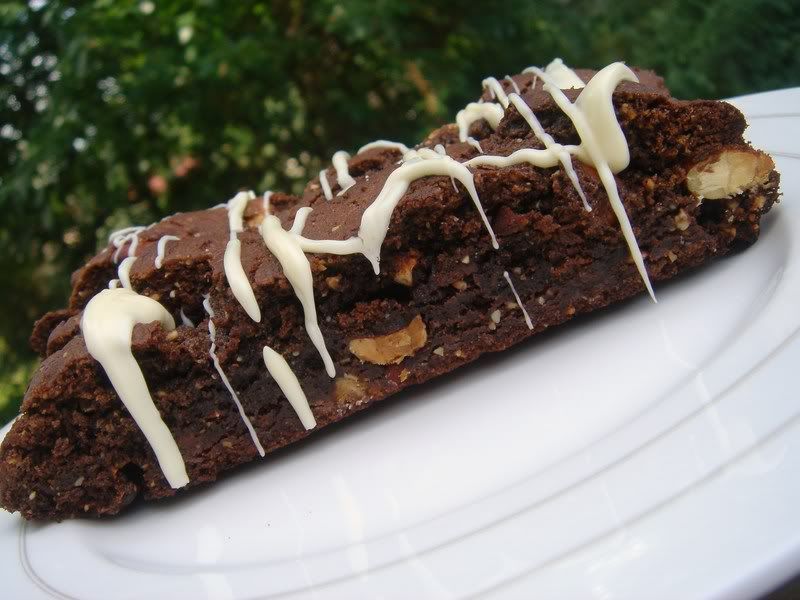 Ingredients - my adaptations in italics
1 1/2 cups almonds, toasted
3 cups all purpose flour
2/3 cup unsweetened cocoa powder
1 teaspoon baking soda
1 teaspoon baking powder
1/2 teaspoon salt
1 cup (2 sticks) unsalted butter, room temperature
2 cups sugar
3 large eggs
2 teaspoons vanilla extract
1/4 teaspoon almond extract

1 cup semisweet chocolate chips
1/4 cup white chocolate chipsFor Drizzle:1/4 cup white chocolate chips1/4 tsp shortening
Preparation
Preheat oven to 350°F. Line heavy large baking sheet with parchment paper. Grind 1/2 cup toasted hazelnuts in processor. Set aside. Whisk flour, cocoa, baking soda, baking powder and salt in large bowl. Beat butter and sugar in another large bowl to blend. Add eggs and vanilla and almond extracts and beat until well blended. Beat in flour mixture. Mix in 1 cup whole toasted hazelnuts, chocolate chips and 1/2 cup ground hazelnuts
Divide dough into 2 equal pieces. Shape each piece on baking sheet into 2 1/2-inch-wide by 14-inch-long log. Place logs on prepared baking sheet, spacing 2 1/2 inches apart (logs will spread during baking). Bake until logs feel firm when tops are gently pressed, about 35 minutes. Cool logs on baking sheet 15 minutes. Maintain oven temperature.
Using long wide spatula, transfer baked logs to cutting board. Using serrated knife, cut warm logs crosswise into 1/2-inch-thick slices.
Arrange slices, cut side down, on 2 baking sheets. Bake biscotti until firm, about 15 minutes. Transfer to racks and cool completely.
Drizzle: Place 1/4 Cup White Chocolate Chips and 1/4 teaspoon shortening (do not use butter, margarine, spread or oil) in small microwave-safe bowl. Microwave at medium 30 seconds; stir. If necessary, microwave at medium an additional 10 seconds at a time, stirring after each heating, until chips are melted and mixture is smooth. Pour melted mixture into plastic sandwich bag. Snip corner off of bag and pipe mixture over biscotti.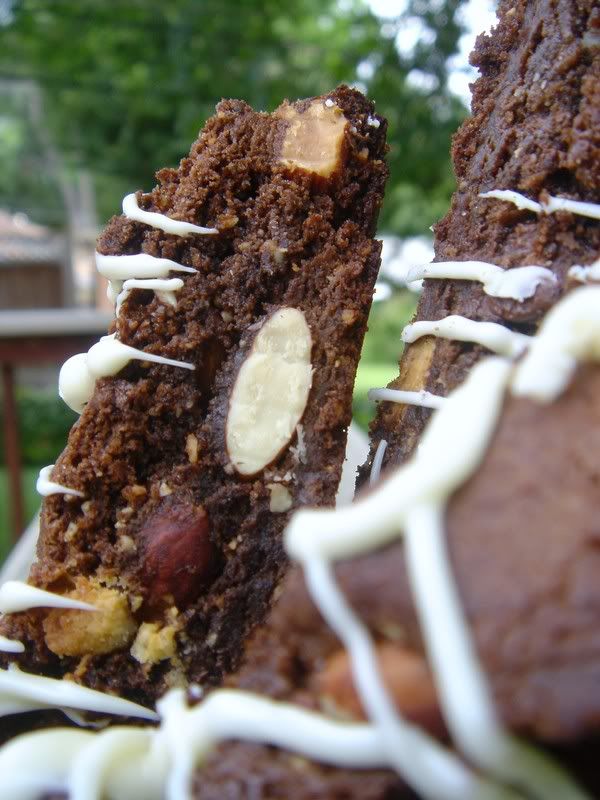 Biscotti can be prepared ahead. Store in airtight container up to 4 days, or wrap in foil and freeze in resealable plastic bags up to 3 weeks.)