It's Cookie Carnival time again!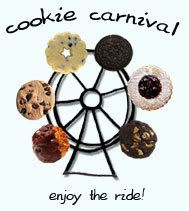 This month the fabulous
Kate
chose The Ultimate Chewy and Soft Chocolate Chunk Cookies. I was happy to see a "normal" recipe that wouldn't take a lot of time to bake. I was skeptical these were really going to be the Ultimate Chocolate Chip Cookie, you see my heart belongs to
ATK's Thick and Chewy Chocolate Chip Cookie.
2 weeks ago I decided to do something crazy.... I gave up sweets. I'm not one of those people that can have a little bit and my craving is satisfied, if I taste a little bit of something, I need more. I did this a few years ago during Lent and it really wasn't that bad. I let myself cheat on Sundays and usually by Sunday, I'm so used to not eating sweets I don't go overboard on what I do have.
So I whipped these up 2 Sundays ago and fell in love with the dough. It was SOOOO good, I was super excited to try the cookies. When I did try them, I was somewhat disappointed, they weren't nearly as good as I had hoped. The next morning I took my pictures and it was so hard not to pop these in my mouth - especially because baked goods always seem to taste better the next day. I was good though and stuck them in the freezer. So skip forward to last Sunday I had two of them during the day and realized that these are pretty damn good. I'm not sure if they'll take the place of my Thick and Chewys, but I will definitely make these again.
I didn't mess with the recipe much, but I did experiment with a second batch and made a thick blondie type thing. I made the dough and put it in an 8x8 baking dish and popped them in the oven. I started the oven out at 325 and then gradually increased it up to 375. They turned out very good, but I was worried about the center setting and I baked them a little longer than I should have. (I have no idea what my baking time way, I just kept checking them in the oven.)The bars would be amzing while still warm with a scoop of vanilla ice cream on top!
The Ultimate Chewy and Soft Chocolate Chunk Cookies (and Bars)
Source: In The Sweet Kitchen by Regan Daley
INGREDIENTS
1 cup unsalted butter at room temp
1 cup tightly packed light brown sugar
1/2 cup granulated sugar
2 large eggs
1 1/2 tsps. pure vanilla extract
3 cups plus 2 tbsp. all-purpose flour
1 tsp. baking soda
1/2 tsp. salt
16 oz. flavorful bitter or semi-sweet chocolate, coarsely chopped
( I used 8oz bitter and 8oz semi)
INSTRUCTIONS
1. Preheat oven to 350 F. Line two baking sheets with parchment paper, or lightly butter them, and set aside. In the bowl of an electric mixer, or stand mixer fitted with paddle attachment, or a large bowl if mixing by hand, cream the butter and sugars until light and fluffy. Add the eggs, one at a time, beating well and scraping down the sides of the bowl after each addition. Beat in the vanilla.
2. Sift the flour, baking soda and salt together in a small bowl. Add the dry ingredients to the butter-sugar mixture, and mix until just combined. Fold in the chocolate chunks.
3. Using your hands, shape knobs of dough about the size of a large walnut and place them 2 inches apart on the baking sheets. Stagger the rows of cookies to ensure even baking. Bake 12-15 for smaller cookies, 14-17 for larger ones or until the tops are a light golden brown. If the cookies are neither firm nor dark when they are removed from the oven, they will cool chewy and soft. Cool the cookies on the sheets for 5 minutes, then transfer to wire racks to cool completely. If somehow they don't get inhaled immediately, they may be stored airtight at room temperature for up to one week.